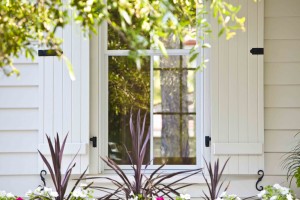 In his book "Traditional Construction Patterns," Stephen Mouzon said it best when it comes to how shutters should look:
"First, shutters must shut or they are not shutters right… Second, fake shutters for years have been manufactured at 14″, regardless of the width of the window. This only highlights the fact that they are fake. Such shutters are worse than just a waste of money, because they fairly scream their uselessness to the viewer. Third, shutters will not last very long if they flop in every breeze."
With E-Zee Set shutters, you will beautify your home and meet the criteria of both discerning architects and potential homebuyers. We pride ourselves in creating the most functional shutters available and we provide all the hardware to keep your shutters lasting and not flopping in the breeze.